Angelo Moore of Fishbone to play Urban Nomad Opening Freakout with The Brand New Step
In our quest for the best live acts in the universe, Urban Nomad has lured in legendary frontman of Fishbone Angelo Moore, who will bring his new band Angelo Moore & The Brand New Step to the 2018 Urban Nomad Opening Freakout, held at Tiger Mountain in Taipei on April 14-15. Also set to perform: Minnesota Voodoo Men and Walkings from Japan! And Taiwan's best bands & DJs: Skaraoke, Outlet Drift, Crocodelia, Sonica Calico, Balkazar, DJ Cosimoz, Byron Duvell (Diamond Tigerz), and DJ Marcus Aurelius. And we're just getting started. There are plenty more performer announcements to come!
In 2018, the Urban Nomad Opening Freakout will be held on April 14 and 15 (Sat & Sun) at Taipei's best outdoor music venue, Tiger Mountain, a green mountain valley only a 10-minute taxi ride from Taipei 101. There will also be a warm-up party on April 12, a late-night afterparty on April 14, and more fun events. Stay tuned for details!
The lineup will consist of more than 30 bands and DJs playing on two main stages, plus amazing food, craft beer, a pop-up vinyl DJ stage, art installations and booths, circus performers and new surprises!
Major musical themes for 2018 will include 1) garage rock & neo-psychedelia, 2) funk, reggae and world music, and 3) DJs and live electronic acts playing an underground dance party inside an old Taoist Temple. So what's up with Angelo's new band? Here's what's up!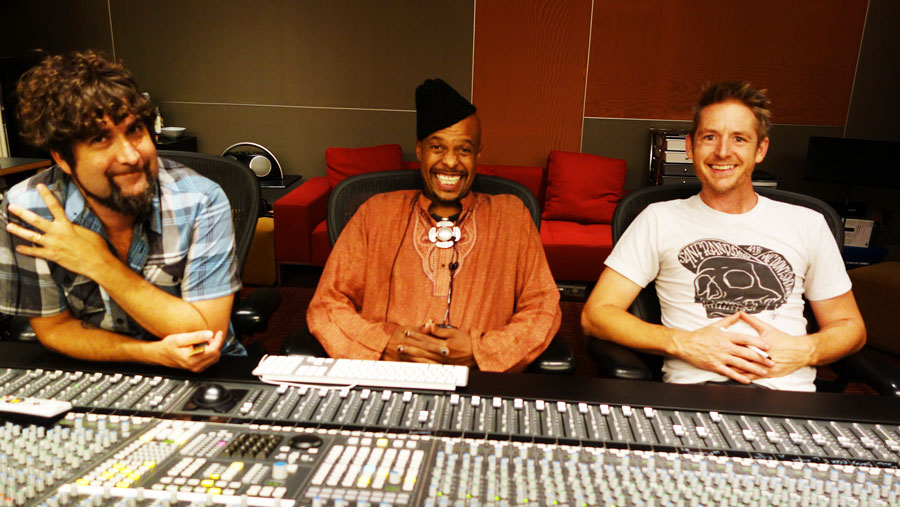 Angelo Moore & The Brand New Step
Angelo Moore is the legendary frontman of ska-punk band Fishbone and known for his explosive on-stage presence, amazing vocal talents, and mad musical skills on saxophone, horns and many other instruments. Though Angelo still performs with Fishbone, he has now created a new project, The Brand New Step, in collaboration with an all-star cast from the San Francisco Bay and Oakland, and together they're creating to push the musical style into a totally freaking awesome fusion of neo-soul, hip hop, jazz and electronic dance music.
The Brand New Step launched in 2013, and has so far involved collaborations with all-stars from the worlds of both indie rock and indie hip hop: rappers Casual and Boots Riley (The Coup), as well as musicians from Ween, Faith No More, Galactic, Kasabian and numerous others.
The current touring line-up includes bass player JJ Jungle and drummer Hassan Hurd, both from the political rap group The Coup, up-and-coming neo-soul diva Bridney Reese, keyboard player and producer Jim Greer (a songwriter for Macy Gray and member of Rondo Brothers, Handsome Boy Modeling School and other bands) and guitarist and producer Kris Jensen (from the band Hey! Brontosaurus). Together, as the Brand New Step, they seek to push boundaries and cross genres such as Soul, Dance, Funk, Ska and live electronic beats to fuse together a project that is influenced by the musical maturity of many of the best genres without sounding like anything that has come before it. The new sound combines Angelo's dynamic vocals, horns, theremin, beatboxing, effects and seamless electronic beats for a nonstop feel-good party.
Info: http://www.brandnewstep.com
Listen: https://soundcloud.com/angelomoorebrandnewstep
In general the band represents a new sound for Angelo, but this tune harks back to "Truth and Soul" era Fishbone.
Another song, "Killaweed".
Their bass player JJ Jungle is known for doing crazy flips in the middle of bass solos. Here he was caught on video playing with his previous band, The Coup. Ya'll know The Coup, right?
JJ Jungle bass solo (Arcata 2014) from CoupTV on Vimeo.
ABOUT THE OPENING FREAKOUT
The Opening Freakout began in 2008 as an opening party for the Urban Nomad Film Fest, which has for more than a decade invited the best, weirdest and most outrageous underground and indie musical acts that can be found. Highlights include I.U.D. (feat Liz Bougatsos of Gang Gang Dance) for the Video Mindfuck Party, Trippple Nippples, Mop of Head, Kinoco Hotel, Autopsy for a Drowned Shrimp and many more. Since 2015, Urban Nomad's opening party has grown to become its own event, an outdoor music festival that kicks off the Urban Nomad spring season — the Urban Nomad Opening Freakout!