The Taipei leg of the Urban Nomad Film Fest came to a close on May 17, closing five weekends of events. So far, it has been Urban Nomad's most successful year yet, with more than 20 international film directors, producers, festival organizers and musicians traveling to Taiwan for festival events and the festival's strongest ever film lineup, including 23 feature films making their Taiwan premiers. These included 19 international films and 4 locally made feature-length films — the local films were also world premiers. The festival also broke its attendance record, with more than 7,000 people attending screenings, parties and events and more than 1 million media impressions generated. Films included 20 international documentaries, two locally produced feature films, a selection of short films from Hong Kong's Sunflower Movement, a shorts compilation from Berlin's Interfilm festival, six short film programs, and three locally produced documentary feature films. The competition awarded NT$60,000 in cash prizes in five different categories (best film, best short, best animation, best music video, audience choice award).
In June and July, parts of Urban Nomad's program will continue to tour to other cities in Taiwan. Screenings will take place at the Hsinchu Image Museum, a government-run film house in the tech-hub of Hsinchu, and the National Taiwan Museum of Fine Arts in Taichung. Award winning filmmakers will tour with the program for Q&As with audiences in Taichung and Hsinchu. More touring may also take place later in the year.
Here is a recap in photos of Urban Nomad's events in Taipei from April 18 to May 17, 2015.
In Taipei, the first two screenings of 2015 were held on the rooftop at Taipei Artist Village in Urban Nomad's traditional DIY style.
After the rooftop screenings, Urban Nomad moved to the LUX Cinema, located on the "movie theater street" in Taipei's Ximen district. Screenings were held there from May 8 to 17.
Masahiro Sugano, director of Urban Nomad's 2015 opening film, Cambodian Son, in Ximen's pedestrian zone near the theater.
Urban Nomad festival director David Frazier announces the official start of the festival at the opening film on May 8.
One9, director of Nas: Time is Illmatic, taking questions after a screening on May 9.
One9, director of Time is Illmatic.
A panel discussion on May 10 brought together Nas: Time is Illmatic director One9 with local Taiwan MCs for a conversation about hip hop. Both sides traded stories of how they found music and how it influenced their creativity. This was one of the first, if not the first, serious discussions of Taiwan hip hop culture at a major cultural event in Taiwan. From left: One9, 老莫/Ill Mo (參劈, Revival), 瘦子/E So (MJ116, How We Roll), 阿福/Meanmachine, Leo37.
Danish filmmaker Peter Anthony, director of The Man Who Saved the World at Urban Nomad on May 9, 2015.
Since Danish film director Peter Anthony announced only at the last minute that he'd fly to Taiwan for the screenings, it was unfortunately too late to change the theater schedule, so we had to improvise a Q&A outside the theater after the screening of his film.
For the Taipei premier of To Be Takei, Urban Nomad invited the Taipei International Queer Film Festival to co-host the screening. TIQFF brought life-sized cutouts of George Takei and his husband Brad, making a fun gay rights promotion outside the theater.
What wine goes best with the film Somm? Pretty much any of them. The documentary about sommeliers had its Taiwan premier at Urban Nomad on May 13, and after the screening, Urban Nomad teamed up with Gourmet Taipei food festival for a wine tasting at the nearby Amba Hotel. This was the first ever event of its kind in Taiwan — a film plus a wine tasting! We're definitely doing it again next year!
A special film section looked at Hong Kong's "Umbrella Movement" protests of 2014 and brought a sizable group of Hong Kong filmmakers to Taipei for the festival.
After the screening of the Umbrella Movement Shorts, TC Chang (Taiwanese writer), Vincent Chiu (Hong Kong Indie Film Festival, festival director) and Hong Kong film directors take questions from the audience.
Film critic Lee Youxin (with the shoulder bag), film director Lynn Chen (center in black) and art critic and curator Hongjohn Lin (at left with glasses, partly blocked)mingle outside the theater.
Taiwanese pop singer Deserts Chang came especially to see the Elliott Smith documentary, Heaven Adores You.
Audiences line up for a screening.
Leaving the theater for a moment, let's backtrack to April 18 — Urban Nomad's Opening Party, a one-day music festival with eight bands and five DJs in a mountainside farm on the outskirts of Taipei.
Urban Nomad's Opening Party on April 18, 2015: Skaraoke, killing it as usual.
Headliners at Urban Nomad's Opening Party (Apr. 18) were The Drowned Shrimp, a funk band from Japan, decked out in psychedelic shrimpy regalia.
Despite the at times heavy rain, more than 500 people parties well into the night for a solid lineup of 8 bands and 6 DJs.
White Eyes 1/2 put together a special show with dancers.
Back to the film festival. From the May 16 screening of the film Double Happiness, Beijing actress Yaki Cang and Austrian film director Ella Raidel pose outside the theater.
Cast and crew of Formosa Boulevard just before their world premier on May 15, 2015.
A Q&A session after one of the short film program screenings.
The cast and filmmakers of the short film It's Time for You To Be the Creator.
Chris Moukarbel, director of Banksy Does New York, flew from LA to Taipei for the screening. Here he is talking with fans outside the theater.
The world's  best volunteers! Urban Nomad is run and powered mainly by volunteers. Here they are holding the ballot box for the Audience Choice Award.
Taiwanese poet Hong Hong was one of the Taipei literati who was drawn to the festival by Urban Nomad's edgy programming.
Panel discussion on May 17 moderated by Taiwanese filmmaker and producer An Jeyi (far left) and including LA-based film director Chris Moukarbel (red shirt), program director at Rooftop Films Dan Nuxoll (holding the microphone) and translators.
The closing film and awards ceremony. And the prizes went to….
Elder statesman of indie music and 2015 Urban Nomad juror Zhutoupi presents the Best Music Video award to Leo37 and Garrett Clarke for their video "Scream".
Juror Dan Nuxoll (right) presents the Audience Choice Award to Cosmos Kiindarius for his film Stand (which held its world premier two nights earlier).
The Big Nomad Award for best film in any category went to The Caramel Corn Riot, a 20-minute short by local filmmaker GC Hsieh (left), with award presented by Urban Nomad festival director David Frazier.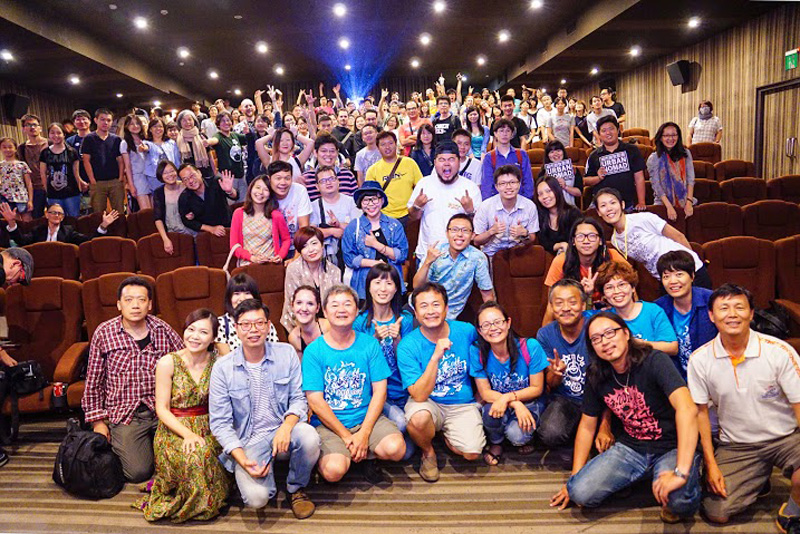 The closing film was Small Oyster Rock in Keziliao, a documentary about a small fishing village in south Taiwan that started its own highly popular and 100% indie music festival. The filmmakers drove up to Taipei in a van, bringing many of documentary's subjects to the film's Taipei premier at Urban Nomad. At the end, they stayed around to pose with the audience, marking the end of Urban Nomad's run in Taipei.
And we out! See you in Hsinchu and Taichung!