Last week, the Urban Nomad team visited the 22nd Busan International Film Fest, where as a team we watched 43 films (see all our reviews in the two articles on the Chinese version of this site). In reality, to visit this festival is to spend almost a full five days living in Korean shopping malls and luxury hotels, though of course we stayed somewhere slightly more affordable. The cinema was a mixed bag, yet enjoyable. It's unquestionably the most important film festival for Asian cinema in existence today, and for the first time in BIFF's 22 year history, both the opening and closing films were by woman directors. The real draw, however, was the ballrooms full of film professionals from London to Tokyo and everywhere in between. They filled up nightly between 8pm and midnight, and the booze was always free.
I was able to watch 70 years of the yakuza on film, from 1947 to 2017, and now I wonder if Japan merely invented the yakuza to boost its film industry. I missed the big Korean releases, which is what Busan is really about. Even as a badge holder, which offered some special privileges for procuring tickets early, it was difficult to get in. (Many of the critics watched those films at special viewing stations.)
Taiwan had a very big year with seven films — they were also mostly sold out. Now back in Taipei, I need to see The Great Buddha+ and The Bold, the Corrupt and the Beautiful in the theater. After drinking with actors from both films, I'll buy my tickets gladly. I also left too early to see the closing film directed by 80s Mando-pop star Sylvia Chang, Love Education, but that will also hit Taiwan theaters before too long. There was a rumor that Taiwan was "making a move" this year to warm up to Korean film circles, as China is currently blocking market entry for Korean films. I doubt that's really true. It's probably just a good year for cinema and a long-term growing relation between free nations that don't throw temper tantrums at each other by erecting sudden trade barriers.
During my short BIFF week, I was mistaken for indie darling director Darren Aronofsky by a woman who was "sitting pretty far from the stage" and Instagramed by Singapore director Royston Tan, who thought I had a cool look. The BIFF staff was amazing and friendly and I thank them for everything. There are still at least a dozen films I wanted to see but didn't. Here are my knee-jerk reactions to the 15 films that I did catch.
TAIWAN
♛Blood Amber / 2017 / Taiwan / Lee Yong-chao
No one, and I mean no one, gets camera access into the jungle mining camps of north Burma like Lee Yong-chao. This was the Asian premier of his first ever feature documentary — Urban Nomad has shown his shorts for almost five years running. He offers slow cinema: verite portraits of men who live eight storeys underground, leading lives we could not otherwise understand or imagine, if not for him.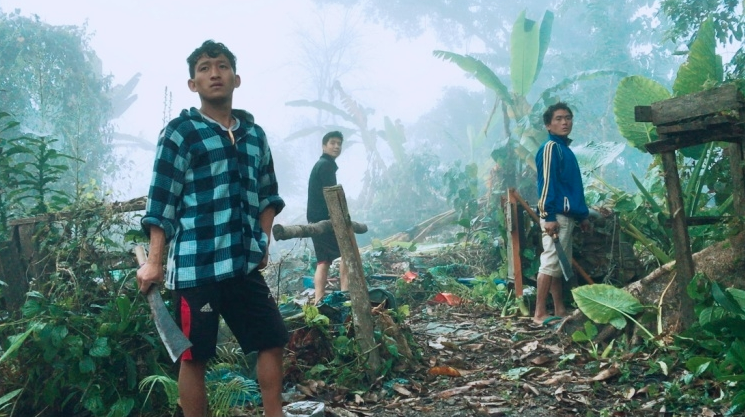 CHINA
♛Have a Nice Day / 2017 / China / Liu Jian
A extremely cool animated film, with a storyline of idiotic small town gangsters that's something like what the Coen brothers would dream up, if they happened to be from Bengbu, Anhui Province. The artwork totally nails bleak the landscape industrial China and its legions of scheming bumpkins. I was also struck by the realization that the Chinese don't need to imagine Blade Runner-esque dystopias, they just go to the corner noodle shop.
♛Dragonfly Eyes / 2017 / China / Xu Bing (徐冰)
The first feature "film" from one of China's most famous contemporary artists, this is composed completely of footage from CCTV surveillance cameras, YouTube videos and online streams. Conceptually awesome, though the cineast crowd didn't like the simplistic narrative. I had more and longer conversations about this film than any other.
♛The Brink / 2017 / Hong Kong, China / Jonathan Li
At first, for lack of a better word and only in an anthropological sense, I found it interesting that this film was boiled down to the bare bones of fight scenes, chases, and pairs of hardboiled men pitted against each other in ultra masculine stare downs (gangster-gangster, cop-cop, cop-gangster). There were literally no other scenes. I honestly believe they consciously cut out all bits with plot or character development, any dialogue at all really, or lacking knife slash sound effects. But now, after all the torture porn and super hero illogic of the fight scenes, I think I finally know where this movie is heading — SPOILER — a sudden brotherly betrayal (of course!) and two guys fighting underwater in the middle of a typhoon.
JAPAN
♛Gate of Flesh / 1964 / Japan / dir. Suzuki Seijun
Five stars, a classic from the vault of Japan's oldest film company, Nikkatsu. Based on a 1947 novel, in which prostitutes and returned soldiers fight for survival in a decimated post-war Tokyo. It reminds one that a character's psychology can actually be shaped by events — very unlike the characters of today's cinema, who exit a film as the exact same characters who entered, no matter how extreme the traumas they suffer.
♛Tokyo Drifter / 1966 / Japan / dir. Suzuki Seijun
Imagine Clint Eastwood as a yakuza ronin, whistling the titular enka song instead of a Ennio Morricone jingle. Like many Asian action films the editing requires certain imaginative leaps to grasp the plot, but the final kabuki inspired action sequence is spellbinding. And the hero in the baby blue suit is a stone-cold badass. Now I can't get that darn song out of my head.
♛Outrage Coda / 2017 / Japan / Kitano Takeshi
If you're a fan of Beat Takeshi, you'll enjoy his impeccable standards of hardboiled one-liners and the heaping body count. He's a master of the genre. But interesting to note, the major "action" here consists of old men in expensive suits holding lengthy board meetings, with extremely sudden flashes of violence precipitated by their dialogue, which then requires even more exhaustive bouts of backroom scheming. It's perhaps a reflection of the aging, corporatized yakuza of today.
♛A Free Man / 2017 / Germany/Japan / dir. Andreas Hartmann
A well crafted doc on a Japanese young man from a good family who chooses to be homeless: a portrait of an individual who rejects society and its rules. But one also feels there's a deeper story here that we're not getting. But at least the protagonist cries in the film. It's a genuinely moving scene and in the world of documentary, the money shot.
♛Tokyo Vampire Hotel / 2017 / Japan / Sono Sion
In the opening scene, the vampire geisha matriarch –this is my best guess as to what happens here — sort of swallows one of her ladies-in-waiting into her vagina, which doubles as a tunnel to hell. In the next scene babies are being fed Dracula blood. Then there is a really seriously great scene where a kawaii assassin girl kills everyone in a restaurant in superlatively creative ways for pretty much no reason. It's absolutely fantastic Battle Royale / Quentin Tarantino pure fantasy violence type of stuff, and actor driven. Then 30 min later I started to suspect I was in fact watching a rough cut, though one cannot deny the artistic flare of only revealing the title credits at the 45min mark of the picture. The incessant flashbacks and scenes strung together like random TV commercials pretty much solidified the rough cut theory. Despite the many hot vampire babes with shiny blood dripping off their fangs onto their brassieres, the 142 min run time is far, far too long. If they recut before release, however, this could be a fun B-film if you're high, because no matter how they re-edit, this movie will never make sense.
INDIA
♛Angamaly Diaries / 2017 / India / Lijo Jose Pellissery
A not very good film that will nevertheless teach you about India's small town gangsters. It also lets us know that Indian film is not all Bollywood; there is also a nascent indie cinema.
♛Omerta / 2017 / India / Hansal Mehta
I knew it was about the radicalized UK-born native who committed the first public beheading in the name of Islam after 9/11, that of Wall Street Journal reporter Daniel Pearl, but I didn't know it was an Indian studio quality film with an anti-Pakistan political agenda. Bollywood propaganda is every bit as compelling as Hollywood's. Powerful and disturbing.
KAZAKHSTAN
♛Alone / 2017 / Kazakhstan / Akan Satayev
Unexpectedly weird and spooky sci-fi horror story in the hi-tech luxury apartments and central business district of — some city in Kazakhstan? Who knew. This is obviously not the home of Borat. It's also a pretty cool film about, ostensibly, the last woman on earth. Edgy, tense and intimately related to female biology. An unexpected find.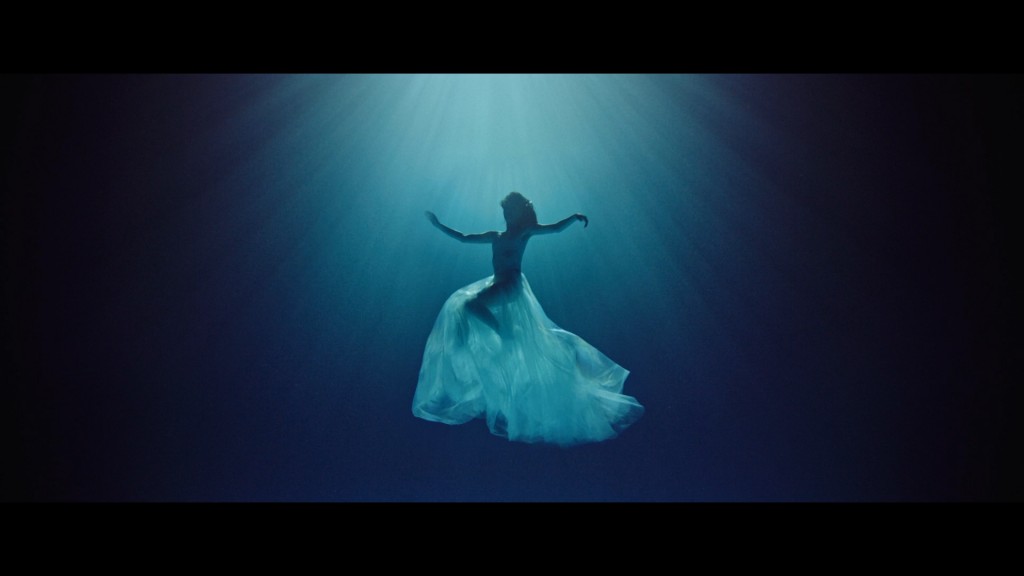 US & UK
♛Victoria and Abdul / 2017 / UK / Stephen Frears
A fun buddy movie, in which one of the buddies is the Queen of England — Queen Victoria to be exact. The other is her Indian servant, whose history is here rectified after being buried in an attic in Agra for more than a century. A full budgeted period piece, yet also a contemporary comedy, it's not bad for a date, and even better for Mother's Day.
♛Ex Libris: New York Public Library / 2017 / US / dir. Frederick Wiseman
For documentary nerds, and only those willing to sit through three-and-a-half hours of this panoptic day-in-the-life of the New York Public Library, a film with no real structure, but rather a flow of the events and discussions that happen at all levels in this vaunted institution. But it's seriously fricken long.
♛A Cambodian Spring / 2017 / UK / Chris Kelly
This is for documentary buffs and Asian affairs politicos, but it's the only movie I saw at BIFF that made me cry. It was the 10-year-old girls protesting to have their mothers released from prison, who were put there for protesting that their homes and the land it was built on were demolished for a development project, and that people were shot (but not killed) during the initial eviction. The film is also interesting for recapping a decade of Cambodian politics (mid-2000s to 2015), and I had no idea there was such a thing as the "monk police", a unit for dealing with rogue political activist Buddhist monks.