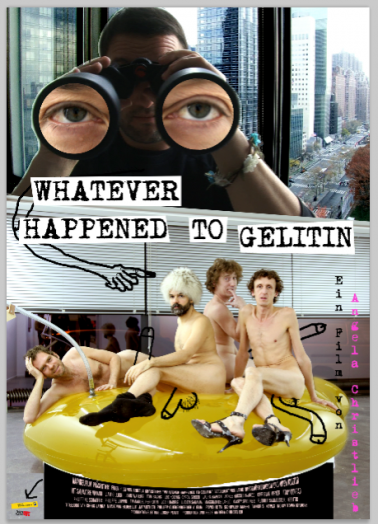 Whatever Happened to Gelitin?
Angela Christlieb / 2016 / Austria / 82min / English, German / English & Chinese subtitles
Artist Liam Gillick hasn't seen them. Director John Waters has no idea where they are. Filmmaker Tony Conrad has his theories, but he's not saying. But whoever you ask, the fact remains, the four members of the Austrian artist group, Gelitin (Wolfgang Gantner, Ali Janka, Florian Reither, and Tobias Urban) have disappeared!
So Salvatore Viviano, artist, art dealer, and occasional collaborator in Gelitin performances, sets off on a cinematic search for the art world's funniest boy group. With an imposing microphone in hand, he questions artists, gallerists and curators about the group´s possible whereabouts. His imaginary quest provides the narrative framework for Angela Christlieb´s tour de force film, which both portrays, and itself, mirrors, the energy of Gelitin's anarchic operations. The quartet rose to fame with border-crossing and visually powerful performances, sculptures, installations, and photos. They roll gleefully in the mud, incite audiences to acts of art destruction, attach stuffed animals to their testicles for a "fashion shoot"; dance naked with spinning tassels attached to their bums, or discuss which of the four´s excrement created which letters in the "Kackabet"—letters made from feces. At one point, art dealer Christian Meyer analyzes, "Our world is always trying to rationalize things, an approach that Gelitin deliberately refuses."
Christlieb constructs her film out of a wealth of archival material, rhythmically assembled, and interwoven with stories and observations from various interviews. Art dealer Leo Koenig says that Gelitin's art just makes him want to strip of his clothes, while artist Tom Sachs admits, "I wish my life were 10 percent more Gelitin!" A yearning that will certainly be shared by many after watching this film.
"I decided to make a film that would equal to Gelitin's art: a surreal trip in search of the four members of the artists group, leading through an almost unfathomable creative cosmos."  — Angela Christlieb, director
"The abundance of exposed male genitalia in Gelitin's works …is not for the faint-hearted"   — Art AsiaPacific
電影播放時間 Screening Times:
5/13 (六/Sat) 23:15
5/17 (三/Wed) 18:20
播放地點 Screening Location
WONDERFUL THEATER 真善美戲院
7F #116 Hanzhong St, Wanhua District, Taipei
台北市萬華區漢中街116號7樓