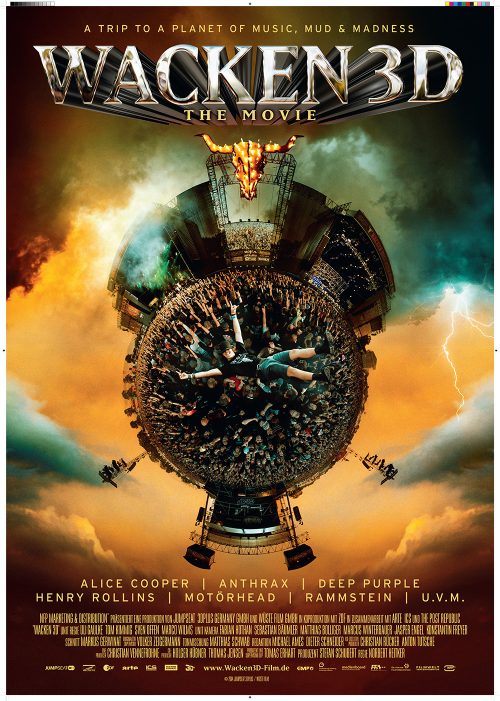 電影播放時間 Screening Times:
5/15 (SUN) 17:10 + Q&A
5/19 (THU) 21:40
影片介紹 FILM INFO
Wacken Open Air is the biggest metal-festival in the world. Held for 25 years in a small German town near the border with Denmark, it's three days of raw energy, non-stop heavy metal music at full blast and 80,000 fans on a party frenzy. The feature documentary Wacken: The Movie, directed by award-winning director Norbert Heitker and filmed at the 2013 festival with six camera units and 18 stereoscopic 3D cameras, takes you on an amazing journey into the fascinating world of the W:O:A community. You are on-stage with Deep Purple, you see the curtain rise, and during the first bars of "Smoke on the Water" you float above an endless sea of people while the sun is setting. You experience Anthrax, Motorhead, Rammstein, Annihilator, Alice Cooper and many more, and you feel that for them too this festival is anything but routine.
This documentary also weaves in stories of fans, one of whom is Taiwanese Cielu Wang, who appears as one of the main characters and tells her own often amusing story of a heavy metal pilgrimmage from Taiwan.
The film includes performances by and interviews with Deep Purple, Anthrax, Motörhead, Alice Cooper, Rammstein, Henry Rollins, Annihilator, Trivium, Sabaton, Lamb of God, Blaas of Glory, Dr. Living Dead, Dunderbeist, Kamikaze Kings, Eskimo Callboy, Doro Pesch & Biff Byford, Anvil, Alpha Tiger, Ragnarok, and Wacken co-founders Thomas Jensen and Holger Hübner.
"Wacken is pure rock 'n roll"

— Thorsten Zahn, editor and publisher Metal Hammer magazine
"There's an intensity about the people who come, because they're so into it. They're willing to just let it go and say ,I'm gonna buy my tickets. I don't even know who's playing yet. I just know it's going to be great, because it's fucking Wacken'."

— Scott Ian, Anthrax