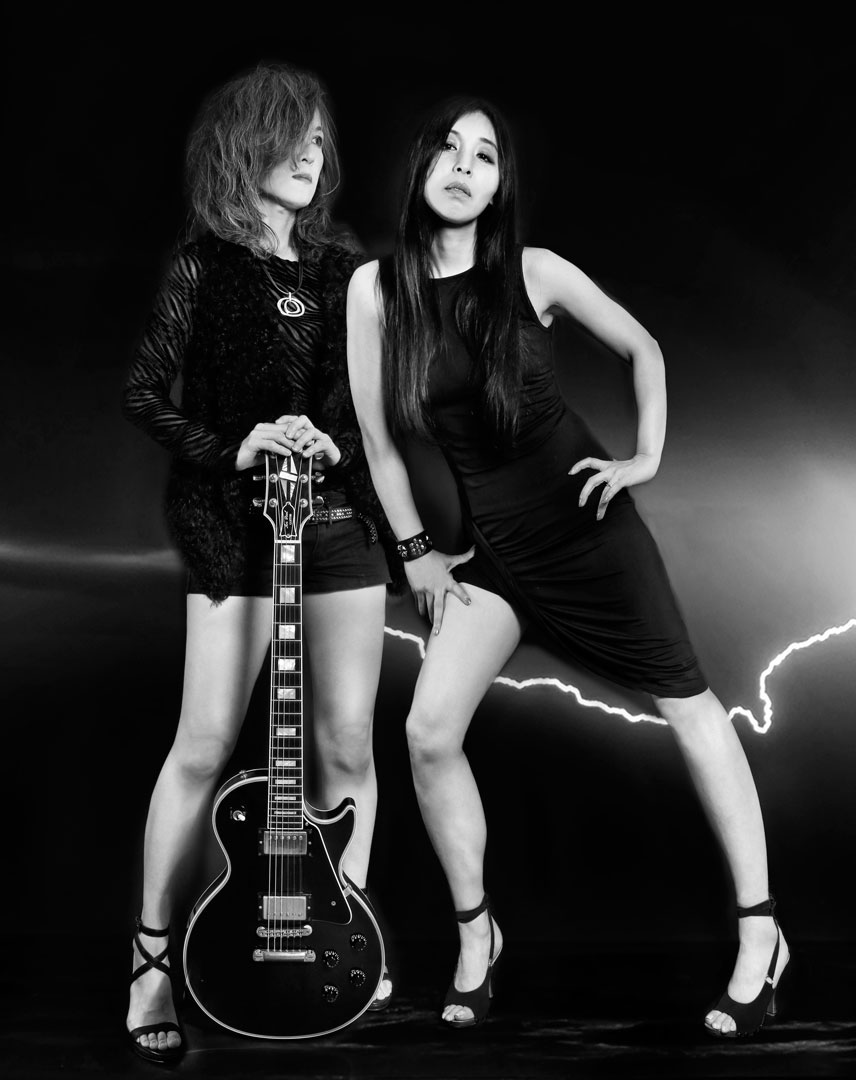 METALCHICKS
Japanese digital rock duo Metalchicks was formed in 2000, by indie rock band Buffalo Daughter's guitarist suGar Yoshinaga and OOIOO/ DMBQ's drummer Yuka Yoshimura, aiming to play aggressive heavy rock with only women in the band. It was not easy, however, to find the bass player, then they decided to let the sequencer play the part. Playing along with the sequencer led their music style to digital-oriented heavy rock. The self-titled debut album includes industrial synth riffs, shredding drum'n'bass, hard hitting Goa trance beats and vocoder singing.
The second album "St. Wonder" released following year was the soundtrack of the movie Arched Angels (Warau Michael in Japanese) which inspired them with some different musical aspects and approach, such as minimalist electronics, soft chanting and pop techno along with danceable heavy rock anthem. Shawn Despres of Japan Times describes the album as "Not as aggressive as their self-titled 2005 debut, "St. Wonder" is a much stronger, sonically richer recording." Mellow laid-back dance track "Tears For Fears/ Conspiracy" was cut from the album for the 12" EP release on US label Life Line. It was favored up by Norwegian electronic dance music producer and DJ, Prins Thomas and included in his mix CD Cosmo Galactic Prism.
The album's favored attention and their strong live performance quickly built the way to attend the major rock festivals/ showcases. From 2005, the duo constantly toured in Japan and overseas including SXSW, CMJ, CMW, Far East Film Festival and Japan's biggest Fuji Rock Festival. It gradually help building the DIY fanbase, and the tour life continued until 2008 when they went back in the studio to make another record. There were good enough number of new songs ready to record but the production was aborted after recording a couple of songs, due to each member's conflicting schedules. Meanwhile the duo was called for participating in the soundtrack for Stan Lee's TV animation series Heroman, then wrote new three songs to be featured in Japan version of the program and the soundtrack album. Metalchicks's own album production remained in pending until 2017 when they got together again for the first time in several years for the live performance at drummer Yuka's wedding party. A new song written for the party not only received a warm welcome but the offer for another tour in 2018. It was about time – the duo made up their mind to go back to the studio this time to finish the album and set the release date sometime before summer of 2018.