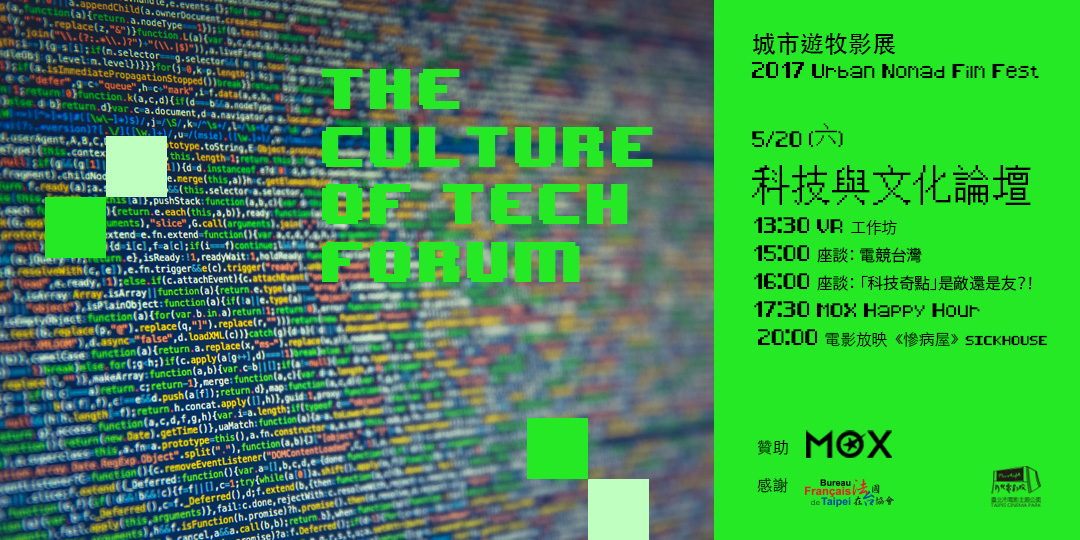 科技與文化 論壇
The Culture of Tech Forum
sponsored by MOX
This forum is designed to create further discussion on the issues raised in the five films in 2017 Urban Nomad's "The Culture of Tech" program section. The films cover areas as diverse as esports, transhumanism, 8-bit culture, social media and the ethical consequences of unbound technology. Events here will include workshops, panel discussions, film screenings and a social networking event. Urban Nomad would especially like to thank MOX, the Mobile Only Accelerator, for sponsoring this program section.
You can register separately for any of the following events on Accupass.
13:30-15:00
VR工作坊 VR Workshop
We've invited local video production studio Digimax to present a practical discussion of VR (virtual reality). Technicians who work with the technology everyday will discuss the current state of VR technology, take us through the production and post-production pipeline, and discuss VR's common applications and remaining challenges. The presentation will include demos, both on the projection sreen and in the VR headset. Filmmakers interested in VR technology should find this especially interesting, but anyone interested in the technical aspects of filmmaking will find this rewarding.
15:15-16:15
台灣電競 eSports Taiwan
A presentation on eSports as depicted in the documentary Game Fever and recent developments in eSports in Taiwan.
Panelist: RainReader Liang — RainReader tries to integrate contemporary entertainment and popular culture into university coursework and promote the study of ACG (anime, comics and games) as a discipline. He teaches currently in National Chiao Tung University and Tunghai University, and serves as the director of U-ACG in MediaBrilliance System Corporation. He is also the curator of Taipei Game Art Exhibition.
Panelist: Charlotte Tachet of ZED, a French independent documentary producer, distributor and publisher for GAME FEVER and many other films.
16:15-17:30
「科技奇點」是敵還是友?!
The Singularity's Coming: So What Does that Mean for Me?
The Singularity refers to a hypothetical moment when computers will become smarter than humans. Some predict this will happen as soon as 2045. Filmmaker Doug Wolens, director of the documentary The Singularity, has spent time with the father of this movement, Ray Kurzweil, and many other leading futurists and techno-optimists. Will we attain immortality and nirvana on earth? Should we get ready for the robot wars? Or will the exponential curve of progress hit a plateau? Doug, who has been both an enthusiast and a skeptic, will discuss these and other questions with thinkers from Taiwan's tech community.
Panelist:Doug Wolens, director The Singularity
Others TBA
17:30-19:00
MOX Happy Hour
MOX happy hour series brings you talks from top international entrepreneurs and the best international social networking event in Taiwan's startup & tech scene. Forum participants and attendees are welcome to join.
20:00
電影放映 Film Screening:《慘病屋》SICKHOUSE
Free film screening ~ outdoors if weather permits
SEPARATE REGISTRATION REQUIRED:
http://www.accupass.com/event/register/1705040630391648100366
SICKHOUSE
Hannah Macpherson / 2016 / 美國 / 68分鐘 / 英語 / 中文字幕 / 亞洲首映
This reality horror film is as interesting for its Blair Witch-like narrative as for the way it was shot and released. From April 29 to May 3, 2016, Sickhouse was produced via hundreds of live, 10-sec clips released on Snapchat. It was shot entirely on iPhones in chronological order and posted in real-time on the Snapchat account of LA actress Andrea Russet — one of the film's stars. It was viewed over 100 million times over the 5-day live filming. In effect, the filming and initial release were simultaneous. The story is of a group of a high school girl, Taylor, who runs away from a bizarre web of family and friendship conflicts to visit her friend Andrea in Los Angeles. Andrea and friends take her on a camping trip to clear her mind, then things go horribly wrong.
時間 Time
5/20 (六/Sat) 1:30-9:30pm
地點 Location
台北電影主題公園展演廳
台北市萬華區康定路19號
Taipei Cinema Park Exhibition Hall
19 Kangding Rd, Taipei
講座語 Language
中英文
Chinese and English