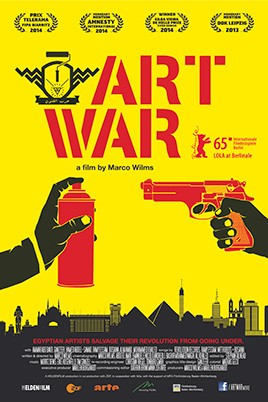 電影播放時間 Screening Times:
5/15 (SUN) 13:30
5/16 (MON)19:30 + Q&A
影片介紹 FILM INFO
The Arab Spring began in 2011 with the hope of social change, but in the wake of this revolution, Egypt's political and social order quickly fell apart. Director Marco Wilms arrived in Cairo in 2011 and witnessed Tahir Square as it was tranformed from a site of revolutionary optimism to one of violent suppression and social unrest. He turned his camera on young Egyptian graffiti artists and musicians who put their creativity towards salvage the revolution. Their graffiti murals commemorated martyrs killed by the military government, identified snipers who'd murdered protestors, and generally carried on the fight against the forces of conservatism.
Unlike star graffiti artists like Banksy or Shephard Fairey in the West, the Egyptian artists of this film are not famous.  Yet more than their famed Western counterparts, these men and women put their lives at stake in order to wield art as a weapon of social transformation. Under a repressive regime with full control of the mass media, they know that if they don't create the symbols of the revolution, nobody will.
The film features: Electro-punk singer BOSAINA; graphic designer GANZEER; folk singer RAMY; writer HAMED ABDEL SAMAD and others.
Winner of prizes at DOK Leipzig, FIPA Biarritz, Film Festival on Human Rights Geneva, FIFA Montreal
A "highly kinetic, explosively colorful account of rebellion in progress. "

— Unseen Films
"In 2011 I came full of enthusiasm, ready to film a world revolution – the dawn of a new era. But instead, it became a burning inferno. The dead martyrs of the revolution dominate our heroes' art. The artists salvage the spirit of the revolution, sailing on Pharaoh's solar ship through the downfall of the Islamic world, from death to the shores of a new life…"

— Marco Wilms, director of Art War